Over 2,000+ Happy
Pet Parent Reviews
Wild Earth Limited Ingredient Dog Food
Stop itching and scratching with clean and plant-based dog food!
Stop itching and scratching with clean and plant-based dog food!
Wild Earth Limited Ingredient Dog Food

Over 2,000+ Happy
Pet Parent Reviews

One of the biggest myths about food allergies in dogs centers on which ingredients are most often to blame. The makers of grain-free dog foods often advertise their products as being a good option for these pets, but research has shown that grains are not the most frequent trigger for dogs. Animal-based proteins are far more problematic!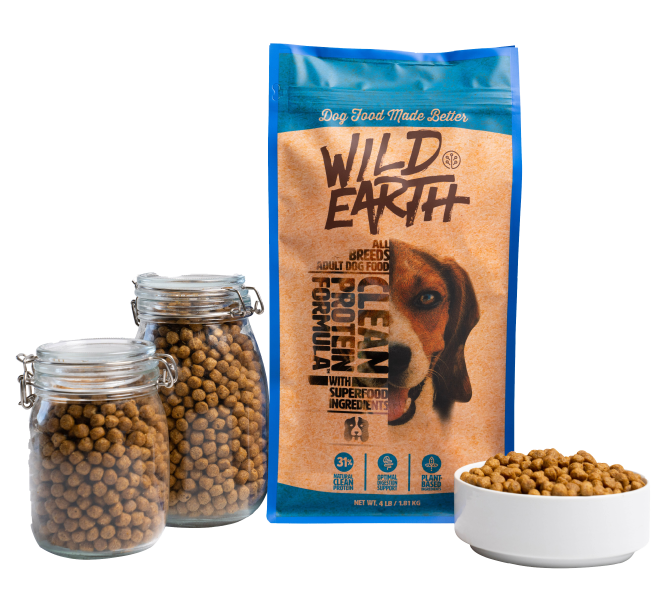 What are the common signs of a food allergy in your dog?
Allergies can trigger anything from chronic ear inflammation, gastrointestinal problems, and chronic diarrhea to chronic gas, licking their feet, or an itchy rear end.
What are the most common ALLERGY triggerS FOR A dog?
Ten percent of all allergy cases in dogs are food allergies. The most common allergens are beef, dairy, wheat, egg, chicken, lamb, soy, pork, rabbit, and fish.

Health benefits you can see
Some of the changes you can expect after switching to Wild Earth: more energy, less allergies, shinier coat, and healthier weight.
Better for your dog and the planet
Our clean protein formula is loaded with all 10 essential amino acids dogs need while using 90% fewer resources required than meat-based dog food.
Trusted by PET PARENTS LIKE YOU
Our 5-star reviews show that most dogs immediately prefer us to their prior brand, and the health benefits of a clean diet begin after only a few days.






"My dogs love Wild Earth food and treats. Their allergies have cleared up and I feel so much better giving them clean ingredient dog food without fillers, chemicals, and other junk ingredients. They are happy, healthy dogs!"
- Donna S.


"This food formula has been a godsend! My dog has severe skin allergies, but this formula has not aggravated her. I have both my dogs on it now and they are thriving!"
- Laura C.


"Love this food for my dog! She had problems with allergies and I started her on this food and things are starting to clear up! She's a very picky eater too and she actually loves this food and eats twice a day!"
- Holly B.


HAPPY TUMMY, HEALTHY POOPS


"My dog was diagnosed with IBD so we had to find a food that would be digestible and hypoallergenic. Wild Earth was the winner. She loves it. Her symptoms are greatly improved and this food will be in her bowl from now on. Thanks all for the great products!"
- Linnette M.


"Since switching my pooch to your product, she has had no tummy issues and always regular normal bowel movements. Her hair is Amazing and grows fast. Your company is amazing and I would recommend it to everyone!"
- Dawn F.


"I cannot believe the difference between my dog's digestion and, ahem, poop! My dogs LOVE the food and no more upset or sour stomachs. Even after just a week of introducing Wild Earth, I noticed a difference! Amazing product - keep up the terrific work."
- L J F.


CLEAR SKIN & HEALTHY COAT



"I changed from a raw diet to Wild Earth. I have a Furry Son, that suffered from skin issues all his life. The improvement, from just one month, is amazing. Your dogs will LOVE IT! He cleans the bowl like it just came out of the dishwasher. NO JOKE!!"
- Darlene K.


"Our Old English Bulldog named Frances loves Wild Earth. She has the softest & shiniest coat. She has no digestive problems and she is one strong pooch. She really enjoys the taste of her food and the treats too! We thank you for all you do for her and the environment!"
- Nicole E.


"Our old 15-year-old dog was skinny and her coat was a little patchy but since she had been eating Wild Earth her coat has become thick and she has gained some weight. We love the food for the price and quality."
- Donna B.