Over 2,000+ Happy
Pet Parent Reviews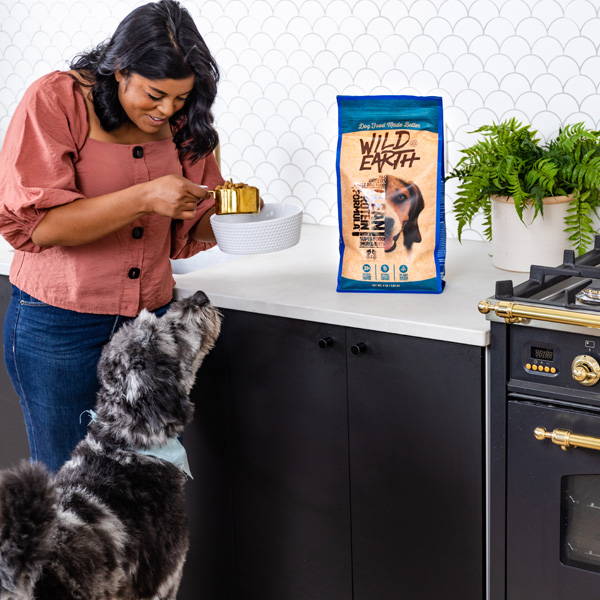 Over 2,000+ Happy
Pet Parent Reviews
REWARD YOUR dog WITH
GOOD HEALTH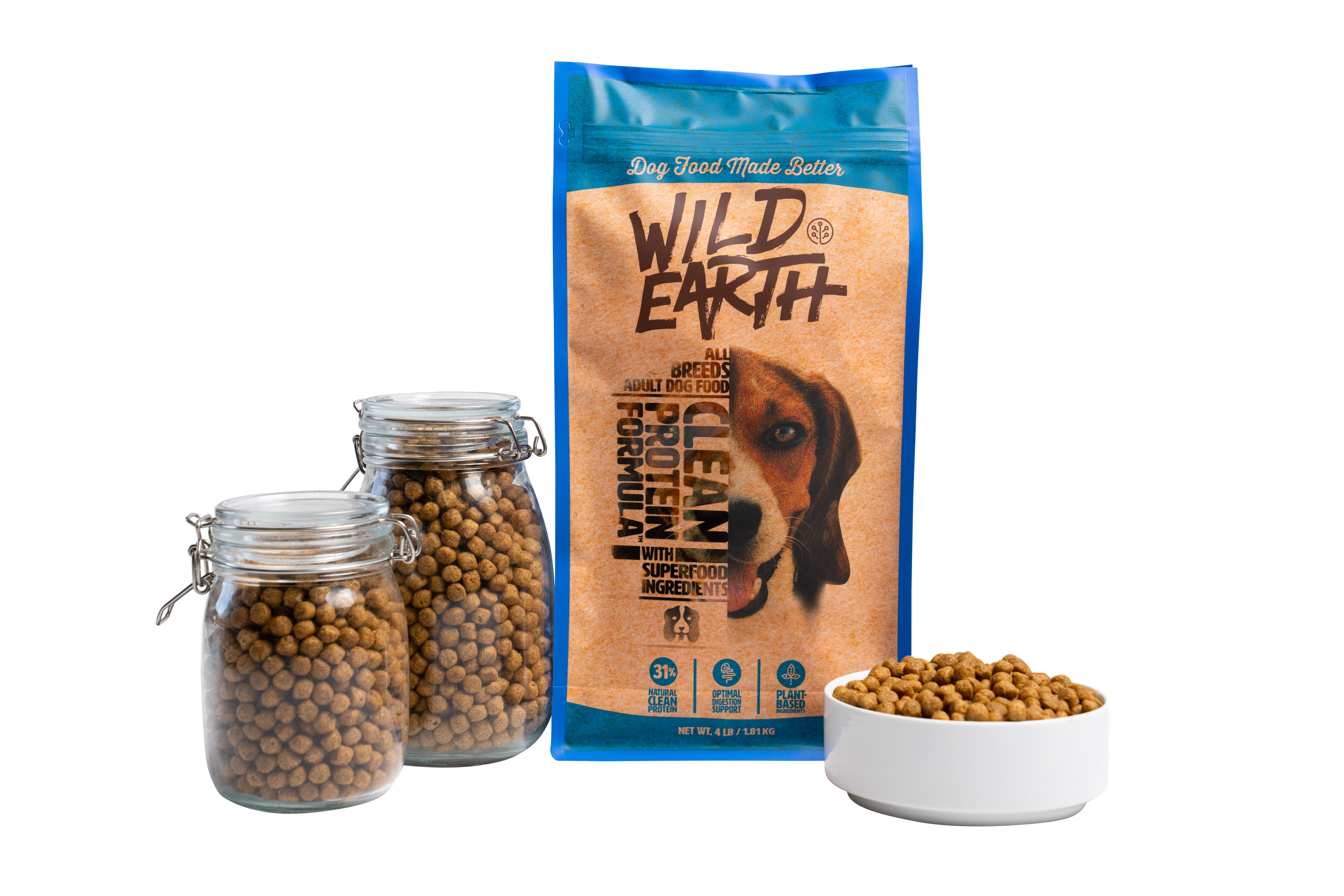 Save

50% Now &

10% on Repeat Deliveries
Free Shipping
Cancel or Change Anytime

Your dog's health is directly impacted by the food they eat. That's why it's so important to select a food that best suits their needs. Wild Earth's kibble has been formulated to not only exceed nutritional standards, but also to alleviate many health issues caused by meat-based formulas.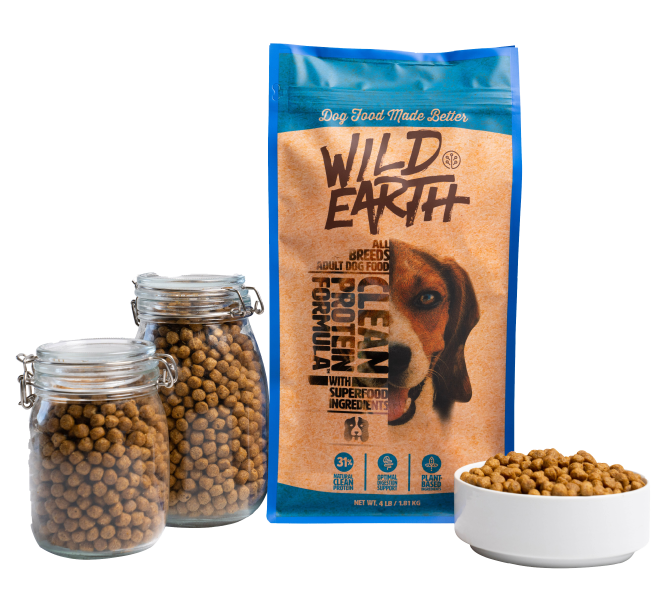 "My dogs love Wild Earth food and treats. Their allergies have cleared up and I feel so much better giving them clean ingredient dog food without fillers, chemicals, and other junk ingredients. They are happy, healthy dogs!"
- Donna S.


"This food formula has been a godsend! My dog has severe skin allergies, but this formula has not aggravated her. I have both my dogs on it now and they are thriving!"
- Laura C.


"Love this food for my dog! She had problems with allergies and I started her on this food and things are starting to clear up! She's a very picky eater too and she actually loves this food and eats twice a day!"
- Holly B.



"My adult dog is acting like such a puppy and I think it directly correlates to her new diet. She's running around again, jumping on furniture and playing. It's so awesome to see!"
- Terry K.


"Our fur baby Stanley is 12 this year. We are about 1/2 way through our first bag and the difference in Stan is amazing. He is peppy, he has energy, his joints seem to be better as he is back to jumping up on the furniture (which was just too difficult for him to do a month ago), he absolutely LOVES this food (and he's super finicky). I was skeptical about trying this Wild Earth, but it was a great choice!"
- Scotty F.


"My 12-year-old dog has tried every brand. No grain. Senior. Fresh mushy tubes. $80 food and $15 food. He is in love with this food! After a week, he has more energy and he is making it up the stairs easier! We have a new favorite brand!"
- Brandy R.


for Pups with particular taste



"My picky eater has been frustrating to feed as he never seems to stick with food he likes until now… He loves wild Earth ..sooo happy to have found a food that's good for him that he loves!! Thank you Wild Earth!"
- Mirko B.


"I have to say I have never seen my dogs so eager to eat lol. I have 4 dogs, I mixed it with the other food for a few days, but they were only eating your food, they were leaving the other kibble in the bowl or on the floor. Now I can't keep it full with Wild Earth lol! They are all eating Wild Earth and NOTHING and I mean NOTHING is left on the floor!"
- Tina J.


"EXTREMELY picky Chihuahua eats it! He used to be on a meat diet but it was such a struggle trying to feed him. We tried all different brands and flavors. Every day was a fight to get him to eat. When I saw this one I decided to try it and so far he's been eating it without a fight, so it's been a win."
- Lisa D.

HAPPY TUMMY, HEALTHY POOPS


"My dog was diagnosed with IBD so we had to find a food that would be digestible and hypoallergenic. Wild Earth was the winner. She loves it. Her symptoms are greatly improved and this food will be in her bowl from now on. Thanks all for the great products!"
- Linnette M.


"Since switching my pooch to your product, she has had no tummy issues and always regular normal bowel movements. Her hair is Amazing and grows fast. Your company is amazing and I would recommend it to everyone!"
- Dawn F.


"I cannot believe the difference between my dog's digestion and, ahem, poop! My dogs LOVE the food and no more upset or sour stomachs. Even after just a week of introducing Wild Earth, I noticed a difference! Amazing product - keep up the terrific work."
- L J F.


CLEAR SKIN & HEALTHY COAT



"I changed from a raw diet to Wild Earth. I have a Furry Son, that suffered from skin issues all his life. The improvement, from just one month, is amazing. Your dogs will LOVE IT! He cleans the bowl like it just came out of the dishwasher. NO JOKE!!"
- Darlene K.


"Our Old English Bulldog named Frances loves Wild Earth. She has the softest & shiniest coat. She has no digestive problems and she is one strong pooch. She really enjoys the taste of her food and the treats too! We thank you for all you do for her and the environment!"
- Nicole E.


"Our old 15-year-old dog was skinny and her coat was a little patchy but since she had been eating Wild Earth her coat has become thick and she has gained some weight. We love the food for the price and quality."
- Donna B.